Slough pensioner in wrong prescription overdose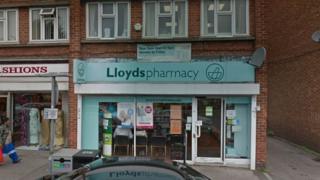 A 92-year-old woman overdosed on diabetes medicine after being given the wrong prescription by a pharmacy, her family say.
Betty Mcleod, from Slough, Berkshire, was taken to hospital after taking twice her prescribed dose of Metformin for five days.
Her son Frank, 68, said the family thought the medicine was dispensed "in a hurry" at the chemist in Slough.
Lloyds Pharmacy said it is overseeing a "thorough investigation into the case".
Mrs McLeod was taken to hospital two days after falling ill, but has now been discharged and is back to normal health.
The issue was spotted after a carer noticed she was taking two diabetes tablets and one paracetamol tablet three times a day, the opposite of her prescription.
Mr Mcleod said a doctor told the family that continuing to take the wrong prescription "could have caused long term damage to her liver".
He claimed that the issue arose from a staff member "not getting the medication checked".
A spokesperson for Lloyds Pharmacy confirmed it was investigating a "dispensing incident" at its pharmacy on Wexham Road, Slough.
They added: "We treat all incidents of this nature very seriously and our Pharmacy Superintendent's Office has been in touch with the family of the patient concerned".