'Violent' robbers jailed for Reading manslaughter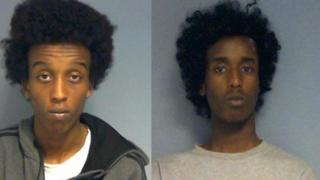 Two robbers whose victim fell to his death from a block of flats as he fled from them have been jailed for manslaughter.
Ide Faysal and Abidiqader Shidane travelled to Reading from London to commit "violent robberies", police said.
The men were sentenced to 15 and 12-and-a-half years in prison respectively at Reading Crown Court on Monday.
They robbed Samuel O'Brien in St Giles Close, Reading, in July last year.
Mr O'Brien ran into a block of flats where he fell from the second floor, Thames Valley Police said.
Faysal and Shidane assaulted the 31-year-old, causing a head injury, before he fled into a block in Southampton Street.
Trying to leave the flats through a second floor window, Mr O'Brien, of Whitley, fell and suffered fatal injuries.
In a tribute to Mr O'Brien, his family said he was a "devoted father" and said his seven-year-old son has been left "devastated" by his death.
Following trial Faysal, 19, of Poplar Place, Hayes, was found guilty of three counts of robbery and one count of manslaughter.
Shidane, 18, of Crest Gardens, Ruislip, pleaded guilty to two counts of robbery and was found guilty of manslaughter.