Royal wedding: Windsor rough sleeping plans 'withdrawn'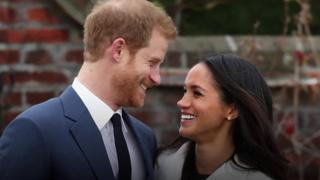 A council embroiled in a row over begging in the run-up to the royal wedding has bowed to pressure and deferred a report into rough sleeping.
The Royal Borough of Windsor and Maidenhead confirmed the paper will no longer go before its cabinet next week and has been pushed back to March.
It said plans to fine rough sleepers needed "further work" after feedback from stakeholders and the public.
Prince Harry's wedding to Meghan Markle will be held at Windsor Castle in May.
The heavily criticised paper included proposals to ban people from leaving bedding and belongings "unattended" on its streets and to increase fines for anti-social behaviour to £100.
It will now be split into two, dealing with the issues of homelessness and anti-social behaviour separately.
The proposed plans for a public space protection order included banning people from making "requests for money, including the placing of hats and containers" in the street.
It also stated that no-one should leave "any bedding, belongings, personal effects or any other material or paraphernalia" in public areas.
Council leader Simon Dudley has requested the report should now be re-worked into two papers to be put before cabinet next month.
The council said in a statement the move will ensure "there is no conflation of the council's separate objectives of supporting rough sleepers and refreshing the approach to tackling anti-social behaviour".
Mr Dudley survived a vote of no confidence last month in the continuing row over begging ahead of the royal wedding.
He had previously suggested rough sleepers would put Windsor in a "sadly unfavourable light" when Prince Harry marries Meghan Markle at St George's Chapel.
The Tory leader claimed his comments had been misconstrued.