Thames Valley officers to wear helmets again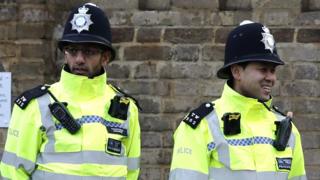 The "iconic" British police helmet is set to be reintroduced by a police force amid concerns about the cost.
Thames Valley Police (TVP) ditched so-called custodian helmets in 2009, but commissioner Anthony Stansfeld wants frontline officers to wear them again.
A trial is taking place in Reading which could see the headgear become standard issue for neighbourhood officers once more.
Critics have said the move would be a poor use of "scarce" resources.
Mr Stansfield said an "upfront" cost for the helmets would be about £30,000.
The police and crime commissioner (PCC) said TVP scrapped helmets as have West Yorkshire and Cheshire constabularies.
"The feedback from [officers] is that they have all been thrilled to wear them," said Mr Stansfeld at a police and crime panel meeting.
"It gives them status," he added. "People recognise they are police officers and they are not traffic wardens."
Helmets were removed as part of a review into police uniform in 2009.
The PCC said the helmets, which cost £30 each, would be used by neighbourhood officers.
'Not practical'
Tom Hayes, Oxford City Council's lead for community safety, said the PCC's idea was a "triumph of style over substance".
He added: "You don't get visible policing by putting on helmets, you get it by putting more officers on the streets."
PC Clive Benson, general secretary of TVP federation, said the body which represents rank-and-file officers was "looking at other forms of protective headgear", such as reinforced "bump caps".
PC Benson said a reintroduction of helmets would "not make a difference" to how police officers work and that many would not be used because constables "simply do not patrol on foot anymore".
He added: "Having been an officer that wore one [a helmet] as soon as you had to run anywhere it fell off. They are not practical.
"There are places for the custodian helmet. A custodian helmet will identify an officer to the public. It's such an iconic image of policing."