Reading Central Club: Bids open to buy derelict building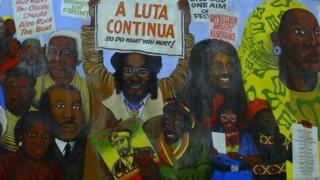 A bidding process has begun to buy a derelict building which sparked a row between a council and members of an African and Caribbean community.
Reading Central Club, which sports a protected black culture mural, is up for sale after bids from community groups to take it over failed.
Bids are now able to be made from both "not-for-profit groups" and commercial organisations, Reading Council said.
Community company Aspire CIC is set to bid for the club, which closed in 2006.
Keith Kerr, chairman of the community company which represents Reading's African and Caribbean people, said members will meet on 19 March to discuss making a new bid.
The company, who claim the building is the community's "spiritual home", previously offered to buy the club at a "fair market value" as part of a £10m investment package.
Mr Kerr said the bidding process was "not a level playing field", claiming offers needed to be submitted with "plans and drawings" which was a "burden" for the company.
The council said "all bids are welcome" as long as they ensure "the iconic black history mural - which is an asset of community value - is retained and forms part of any new or refurbished building".
It added that previous bids with "third sector" bodies were not accepted because they did not represent "best value" for taxpayers.
Reading Borough Council leader Jo Lovelock said the mural represents "Reading's long history of celebrating different cultures and promoting tolerance".
Mr Kerr said he was "likely to stand in local elections", adding: "Ultimately we will have to put people up that will respect the wishes of the community."
The London Street building, which was at the heart of the town's black community for about 40 years, was closed following a police drugs raid in 2006.