Reading half-marathon: Runners take part in cancelled race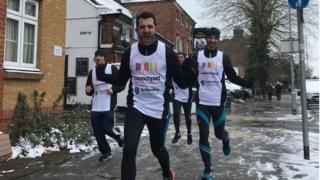 A number of runners have held their own half-marathon in Reading after the official event was called off.
About 100 people are believed to have braved the snow and ice after a Twitter account encouraged runners to still take part.
"Unofficial Reading Half" called for people to take part in a group run to complete charity fundraising targets.
The official event was cancelled due to the weather leaving the course unsafe.
Organisers Sweatshop Events called off the road race with "deep regret" at about 06:30 GMT.
The unofficial run, which followed the 13.1-mile course without the Madejski Stadium finish line, was started by Josh Pewter who had travelled to Reading from London.
'Let's do it anyway'
Mr Pewter told the BBC: "Lots of people were wanting to get out and do it for charity so we thought why not use social media to get a group together and run it together.
"We followed the official course, met some amazing volunteers on route braving cold to hand out sweets."
One tweet on the page said: "Because we've all trained, let's take it with caution and run it anyways."
Another said: "10am start. Bring warm clothing and run with caution. Let's do this anyways."
The unofficial race was held after the official race director, Judith Manson, said weather conditions deteriorated "more than forecasted overnight".
A number of participants criticised organisers about the timing of the cancellation, with some runners having already travelled to Reading.
Ms Manson said the decision to cancel the official event was "not taken lightly" and the "health and safety of our runners and all involved" was their first priority.