Mobile home park power 'run on extension leads' shut off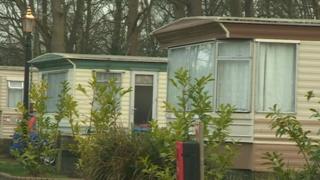 Residents of a mobile home park are without power after an operator disconnected the supply for "safety reasons".
Electricity at Pineridge Park, near Crowthorne in Berkshire, was partially cut off after engineers were called following a series of power cuts.
A resident said the situation was similar to powering the homes off a series of extension leads.
The owner of the park has not replied to a request for comment.
Scottish and Southern Electricity Networks said "supply had to be disconnected" after engineers visited the site.
'Can't cope'
Residents of the 30 homes at the site complained of a number of power cuts across a two week period.
One, who did not want to be identified, said that electrical wires on the plot were "running from a central point", which made it feel like the homes were "being run on extension leads".
Another resident who also wanted to remain anonymous said there are families living on the site with children "who just can't cope with no electricity".
Pineridge Park has previously been the subject of a lengthy High Court battle over an illegal extension to the site, which led to 20 families being evicted.
In November, however, Wokingham Borough Council had to accept caravans could stay on part of the site because it failed to take enforcement action over its unofficial use as a residential site for more than 10 years.