South of England local elections 2018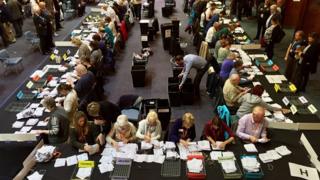 The clue is in the name. Local elections are ... local. So what difference will your vote make? Here's our best intelligence.
COUNCILS THAT ARE HUNG
Portsmouth Con short by 1 - Con 21, LD 15, UKIP 2, Ind 2, Lab 2
The Conservatives are currently in control only one seat short of a majority but their tally has been boosted by UKIP defections so it is probably a bit harder than it looks for them to win a majority. After Labour took the Westminster seat of Portsmouth South last year they will be hopeful of gaining seats and the Lib Dems will also be keen to win back seats they lost four years ago.
Hart Con short by 3 - Con 14, RA 10, LD 8. Ind 1
Most wards have big majorities so major changes are unlikely. Another hung result is expected.
CONSERVATIVE DEFENCE
Mole Valley Con Maj 1 - Con 21, LD 13, Ind 7
Mole Valley is based around the town of Leatherhead and the rural prosperity of the Surrey Hills. One third of seats are up for election. Remain won here (53%) and both Westminster seats are held by Conservative MP's,Chris Grayling and Paul Beresford. Lib Dems could deprive Conservatives of a majority. Fell into NOC between 2010 and 15. Potentially a test for Vince Cable - can he make gains on Nick Clegg's four seats in 2014?Ashtead Independents are third party - slogan is "keep national party politics out of local government".
Winchester Con maj 3 - Con 24, LD 20, Ind 1
Lib Dems last held this council in 2003, although on a Westminster level Mark Oaten served as the MP for Winchester until 2010. It has been a LD/Con fight since the mid-1990s. They will be looking to defend and make progress from the 7 seats won in 2014. If they don't win this Cable will be failing to make any improvement from one of the LDs lowest point in Govt, and at the moment it looks like Conservatives will hold on.
Adur Con maj 3 - Con 16, UKIP 6, Lab 4, Ind 3
Labour did well here in 2016 and achieved a 10% swing at the 2017 general election in the East Worthing & Shoreham constituency. The success is down to the constituency become increasingly a Brighton commuter town.
Swindon Con maj 3 - Con 31, Lab 24, LD2
Conservatives held both parliamentary seats in 2017 but there were swings to Lab. A 4%-5% swing this year (compared to 2014) could see Con control under threat. They've held it since 2002. Swindon's two MPs are Conservative, Justin Tomlinson and Robert Buckland, both have majorities under 3,000.
Woking Con maj 4 - Con 17, LD 7, Ind 3, Lab 3
One third of seats are up for election. Liberal Democrats used to control the council between 1996 and 1998, now they are down to just seven seats. They will be looking to gain some seats on the council, last time they were up was 2014. Could fall into no overall control.
Basingstoke & Deane Con maj 6 - Con 33, Lab 20, LD 6, Ind 1
Conservatives are only defending 7 seats and most have big majorities so they should be safe. Labour has never held this council, but they are campaigning hard this time. No overall control between 1994 and 2007.
Gosport Con maj 8 - Con 21, LD 10, Lab 3
Half the seats are up for election, and this is one of the Voter ID pilot areas, so remember your passport! Most of the wards have large majorities so big changes are unlikely. There's a UKIP seat up for grabs in Rowner & Holbrook. Half the seats are up for election. Liberal Democrats will be looking to hold on to second place - will be interesting if Labour pushes them into third.
Rushmoor Con maj 13 - Con 26, Lab 11, Ind 2
Conservatives should win another comfortable majority. If it falls into NOC this has been a very bad night for the Conservatives.
Fareham Con maj 17 - Con 24, LD 5, UKIP 1, Ind 1
Conservatives likely to retain their majority. This is another rare council that elects by halves - i.e. half the seats are up for election. Will the Lib Dems make gains?
Havant Con maj 20 - Con 29, UKIP 4, Ind 2, Lab 2, LD 1
Conservatives should remain dominant - the question is whether UKIP will lose their representation.
Worthing Con maj 23 - Con 30, LD 2, UKIP 2, Ind 1, Lab 1, Grn 1
It's mathematically impossible for the Conservatives to lose control. Could Labour become the main party of opposition?
Cherwell Con maj 28 - Con 38, Lab 8, Ind 2
Conservatives dominant- mathematically impossible for Tories to lose their majority. Lib Dem MP Layla Moran gained the seat from Nicola Blackwood in the Oxford West & Abingdon constituency. They should be looking to take one or two seats from the Conservatives.
West Oxfordshire Con maj 31 - Con 40, LD 5, Lab 4
Conservatives dominant - mathematically impossible for Tories to lose their majority.
Wokingham Con maj 36 - Con 45, LD 7, Ind 1, Lab 1
Mathematically impossible for Tories to lose their majority. A small part of the Prime Minister's seat is in this council area.
LABOUR DEFENCE
Southampton Lab maj 2 - Lab 25, Con 19, Ind 4
One seat loss would deprive Labour of their majority - Millbrook ward looks the most precarious. Southampton Itchen (held by Con) has the smallest parliamentary majority in England- just 31. Labour should be moving forwards not backwards.
Crawley Lab maj 3 - Lab 20, Con 17
Labour will be confident of holding on despite their small majority. They failed to take the parliamentary seat in 2017, so question over whether Corbyn is doing disproportionately badly in this area. Based in Surrey,
Conservative Henry Smith is the local MP.
Reading Lab maj 16 - Lab 31, Con 10, Green 3, LD 2
After taking the Reading East constituency at last year's general election, Labour are hoping to secure another big majority.
Slough Lab maj 22 - Lab 32, Con 8, Ind 2
Mathematically impossible for Labour to lose control, one third up for election.
Oxford Lab maj 22 - Lab 35, LD 8, Green 4, Ind 1
Labour will hold majority, again important to see if Lib Dems can improve on 2014 performance. Layla Moran took Oxford West for the Lib Dems in last year's general election - will the Lib Dems improve from their 2014low point? Before the Coalition they were very strong competitors here- the Council was NOC between 2000 and 2010.
LIBERAL DEMOCRAT DEFENCE
Eastleigh LD maj 22 - LD 33, Con 6, Ind 5
Boundary changes mean all seats are up for election but the Lib Dems will be looking to return another large majority. They've held the council since 1994. Conservatives have now taken the Westminster seat.