Cow Lane Bridge: Work delayed by further six months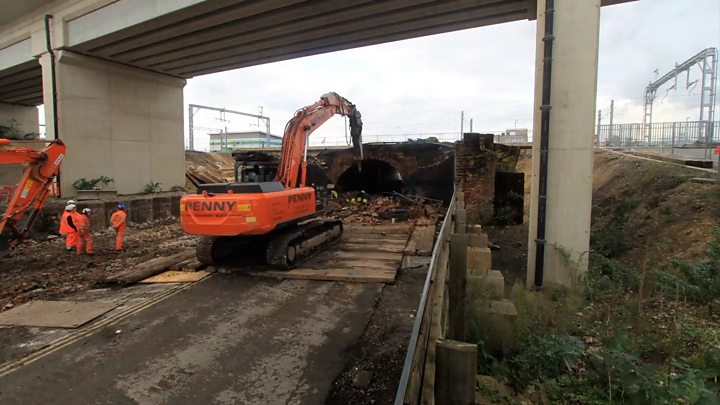 A bottleneck-busting plan to improve traffic underneath a major railway line has been delayed by six months.
The Cow Lane Bridge in Reading was demolished last year - as part of an £850m scheme - to make way for a two-lane traffic system.
However, Network Rail said that due to "unforeseen issues" it will only be able to accommodate a one-lane system while work is completed.
The scheme was due to be completed before Reading Festival in August.
It means that for another six months the road will remain the same as it was before the work started, with traffic lights allowing one lane of traffic through at a time.
Network Rail's Steve Coe said "ground conditions, drainage issues and uncharted buried services" were to blame for the delays.
He added: "We are working with our contractor to minimise the impact and would like to thank people for their patience."
The demolition of the old railway bridge is a key phase of a scheme to improve Reading station that has been in progress since 2011.
Tony Page, deputy leader of Reading Borough Council, said the work had "caused enormous frustrations" but he hoped this announcement would be "warmly welcomed".
"It is unfortunate Network Rail has encountered a number of issues which have delayed the project, which will now be complete by early 2019".