Royal wedding 2018: Windsor homeless bus impounded by police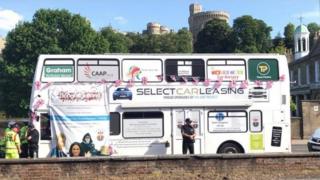 A double-decker bus offering refuge to rough sleepers in Windsor has been seized by police ahead of Prince Harry and Meghan Markle's wedding.
Thames Valley Police said The Ark Project charity's 10-bed bus was impounded due to an issue with the driver's licence.
The charity said it would pay £1,500 to get the bus out of the police pound.
Founder Michael Longsmith, 42, vowed: "We are going to park right outside the castle."
The row comes after the local council's Conservative leader sparked controversy by saying rough sleepers should be removed ahead of the wedding.
Simon Dudley, leader of the borough council, made his controversial remarks about the town's rough sleepers in a letter to Thames Valley Police in January.
After a backlash, however, it appears that several homeless people remain in place in the town's streets.
The Royal Borough of Windsor and Maidenhead said it had been working with charities to get rough sleepers the help they needed.
Referring to the bus being impounded, Thames Valley Police said the force seized the "commercial vehicle" on Thursday afternoon.
"It was being driven otherwise than in accordance with a licence, a man was reported for the offence and the vehicle was removed," said Inspector Gavin Biggs.
Mr Longsmith, of Newbury, Berkshire, said police had pulled the bus over for not having an MoT certificate, but he had shown that it was exempt from the paperwork.
He said police then questioned details about his licence, which he said was appropriate for the vehicle.
"We are going straight back to Windsor with [the bus] in full force," said Mr Longsmith. "We are going to park right outside the castle."
The Ark Project said it had picked up two rough sleepers from Windsor's main streets. It is aiming to put some people into rehabilitation facilities.
Mr Longsmith said many did not want to accept the charity's offer of help, because they feared losing income during this weekend's popular event.