Simone Grainger death: Husband jailed for manslaughter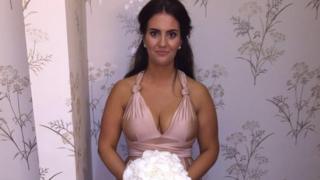 A man has been jailed for 11 years for killing his wife, whose battered and strangled body was found wrapped in a rug in their kitchen.
Steven Grainger, 32, claimed he acted in self-defence when his wife Simone tried to stab him during a row.
Judge Justice Mr Knowles said he accepted Mrs Grainger, 30, was "initially the aggressor" but added: "I'm sure you battered her."
Grainger was cleared of murder but found guilty of manslaughter.
His wife's body was discovered at their Reading home by a family member on 4 November.
Passing sentence at Reading Crown Court, the judge said: "Simone should have been safe in her home, yet you killed her there, while your child slept upstairs."
The judge described how she had been subjected to a "sustained and prolonged assault" that must have involved blows and punches, and strangulation.
He went on: "The force which you used to cause her injuries went far beyond anything which could be described as reasonable."
'Never be forgiven'
The trial had heard how the couple had always bickered but the arguments became worse after Mrs Grainger found out about the extent of her husband's drug use.
He claimed he found her dead in the front room of their Calcot home the morning after a row and wrapped her body in a rug so their young daughter would not see it.
Prior to the sentencing, Mrs Grainger's cousin Karima Dewani read a statement to the court outlining the family's devastation.
Looking directly at a weeping Grainger in the dock, she told him: "Not only have you taken Simone's life away, but you have destroyed ours. You will never be forgiven."
A family statement read: "We are haunted by the thought that someone who was once loved and trusted by the family for so many years could inflict such devastation and brutality on the person he was supposed to protect and love the most.
"For Simone's children, the journey without her has only just begun."