Deadline issued for £8m Theale Primary School project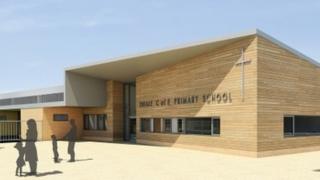 Time is "running out" for a new £8m primary school to be built in Theale in an on-going row between two councils.
West Berkshire Council (WBC) has given Theale Parish Council until 31 July to surrender its lease on the land.
WBC said any later and parents would not have enough time to make admission arrangement for September 2019.
The parish council insisted in a statement on its website that it is "trying to progress matters with West Berkshire Council".
"As always, the parish council will follow due process and will abide by all its legal obligations in this matter," the statement said.
The plan for the primary at North Street playing fields was approved last summer after four years of discussion.
'Move quickly'
In March, villagers voted in favour of releasing the land for the school after "continued delays" by the parish council.
WBC has agreed with Englefield Estate, which owns the land, to purchase it on a freehold basis but cannot proceed until Theale Parish Council gives up its leasehold.
The borough council said in a letter to the parish council: "Time is now running out.
"If Theale Parish Council does want to support the construction of a new primary school in the village then there is a need to move quickly to finalise the land sale between the Englefield Estate and WBC, without which West Berkshire Council cannot enter into a construction contract to build the new school."