Residents in Theale dig ditch to stop travellers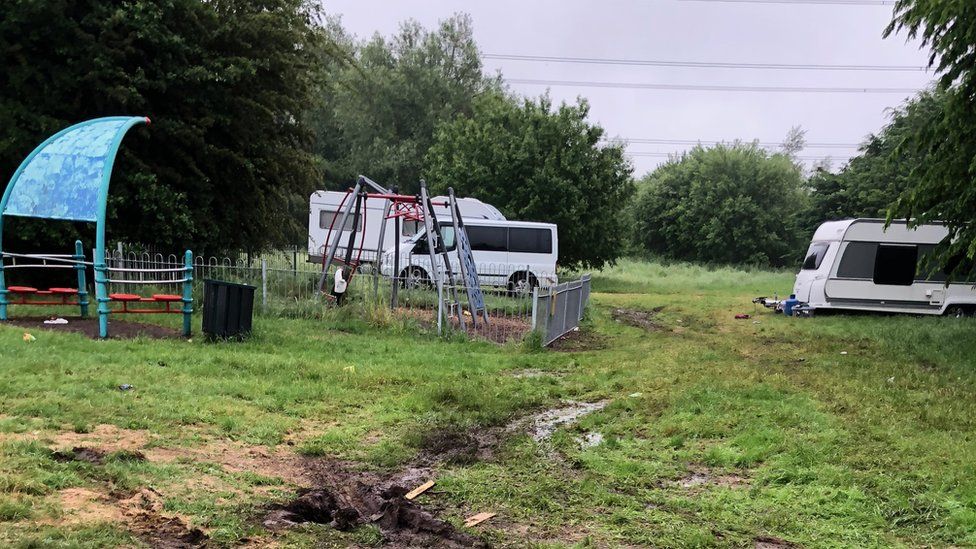 A community has dug a ditch to prevent travellers returning to a field after 22 unauthorised encampments in a month.
Residents in Theale claimed members of a traveller group had caused trouble and left sites near their homes strewn with litter.
But a group representing travellers said the accusations were "word of mouth gossip" and "blatant racism".
Thames Valley Police said it was monitoring the sites with West Berkshire Council on a "regular basis".
Ahead of a public meeting on Thursday, the council said there had been 22 unauthorised encampments since 3 May, adding most had "not presented any significant problems".
But one resident, named only as Claire, said the latest party of travellers had been "absolutely dreadful".
"Everyone has been totally on edge," she added.
Another said some travellers had caused no disruption, but another group started "doing doughnuts in their vans".
Acting Supt Lindsey Finch, of Thames Valley Police, said she understood there was "huge frustration in some local communities".
Phien O'Reachtigan, chairman of the gypsy-traveller coalition, said residents were "jumping at shadows just because it's people they do not understand or from different communities".
"They seem to want to build up barriers and put up gates so people cannot travel through their towns. It's ridiculous," he added.
"It comes down to prejudice, bigotry and, I'm sorry to say, it comes down to racial discrimination."
The council said it first directed travellers to leave a site, but if that was not complied with, it must then make an application to get a court order - a process which can take two weeks to complete.
The local authority said after the land is cleared it aims to find the best way to secure the area to prevent a travellers returning.