Cat's leg removed after air rifle attack 'smashed femur'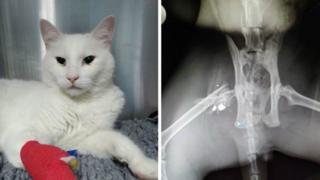 A cat had its leg amputated after it was shot with an air rifle in Berkshire.
An X-ray revealed a pellet had "smashed" five-year-old Frosty's leg and lodged close to the hip joint.
Frosty's owner, Carole Valette from Finchampstead, believes her pet was shot at Nine Mile Ride in the early hours of Saturday.
Ms Valette said: "Who would do such a thing? We are so sad and devastated that such a monster lives nearby."
You may also be interested in:
She said she rushed Frosty to a local 24-hour veterinary hospital when she noticed the cat was limping and had blood in his fur.
"Imagine our shock and anger when an X-ray revealed he'd been shot", said a spokesman for the clinic.
"Sadly, the bullet shattered his femur and his leg was amputated. The incident has been reported to the authorities."