The Oracle closure: Device placed to 'cause disruption'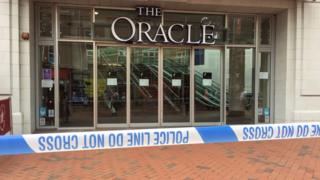 A suspicious item which was discovered at a shopping centre was placed "to cause disruption", police have said.
The Oracle shopping centre was evacuated just after 09:00 BST on Tuesday and remained closed all day while Army bomb control teams investigated.
Thames Valley Police has said the item was "not a viable device" and there is "no credible threat to public safety".
The shopping centre and all car parks have reopened this morning.
General manager Andy Briggs told the BBC that the device is now off site, but the toilets are still cordoned off.
He said that is "the only part of our operation which is affected... the site today is 100% up and running, safe and secure."
There are 12 police officers on site this morning speaking to people who would have been in the area at the same time yesterday.
Many shoppers were unable to return to cars on Tuesday as both car parks at the complex were closed until late in the day.
Mr Briggs said there are still "between 50 and 100 cars" in the car park that "have been stuck in there overnight".
He explained that they "are happy to let them out free of charge" today - explaining that shoppers should go to the customer service desk to be let out.
Staff and shoppers were looked after during the evacuation in local restaurants, pubs and a theatre.
Staff at shops in the main part of the Oracle weren't allowed back in to lock up last night, but were told by the security team "the Oracle will be the safest shopping centre in Britain tonight".
The police investigation continues.