Teacher Vivienne Langham banned over assault conviction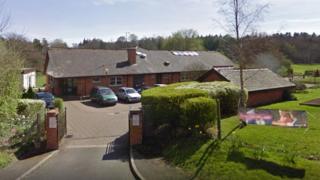 A village primary school teacher has been banned from her profession after failing to declare her criminal past.
Vivienne Langham, from Thatcham, began working at Hampstead Norreys Primary School after she was convicted of battery.
Her conviction was discovered after a mother raised concerns about Langham using excessive force on her son, a pupil at the Berkshire school.
Langham has been banned from teaching at any educational establishment.
'Failed to inform school'
A teacher misconduct panel heard how a mother of a pupil raised a concern in January 2017 after Langham "physically moved her son out of the way".
The Teaching Regulation Agency report stated that "the school was subsequently made aware by the police that Ms Langham had been convicted of battery" in October 2016.
Langham admitted to the panel that she failed to inform the school that she had received a six-month conditional discharge for assault.
The panel found her guilty of unacceptable professional conduct and banned her from teaching indefinitely.
She is able to apply for a case review in 2021.