'Horse hit' as Windsor Triathlon cyclists pass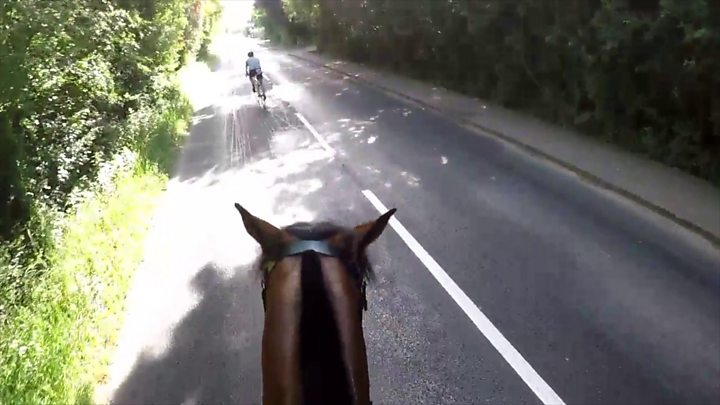 Triathlon organisers are investigating as a horse was hit and its rider hurt by cyclists racing too close to them.
Footage posted on Facebook by the rider showed the moment she said she and her horse were hit during the Windsor Triathlon at about 09:00 BST.
The video shows cyclists pass on both sides, the horse react to a jolt, and the rider cry out.
Organiser Human Race Events said anyone found responsible would be disqualified from the race.
The rider, posting under the name "Jennifer Katherine", said both she and the horse were wearing high-visibility garments at the time of the crash.
She wrote: "The cyclist smashes along the side of my horse, taking my stirrup in the handlebars and bruising up my ankle.
"My horse rears and bolts forward, taking off one of his back shoes."
'Sincerely apologise'
She said she had been unaware the event had been planned.
"No-one stopped to see if I or the horse was OK after this hit," she said.
"I'm still in shock and feeling very sore along one side of my ankle."
The Windsor Triathlon has been running for 28 years and competitors start and finish the race near Windsor Castle.
Amanda Coyne, who lives near the route of the race, said she had encountered cyclists riding "dangerously" while driving shortly before 09:00.
"I nearly had a heart attack as I nearly got hit by a car which had been forced to overtake cyclists who were riding four-abreast," she said.
"They were riding at such speeds and didn't care who was coming in front of them and who was behind them and I really worried there was going to be a terrible accident."
She said she stopped to speak to a race official who she said dismissed her fears.
You may also be interested in:
Human Race Events tweeted: "We are currently investigating an incident at the Windsor Triathlon involving a group of cyclists and a horse rider.
"We are taking this very seriously. Riders will be identified and disqualified from all Human Race Events. All riders are briefed to follow the Highway Code."
It added: "We do not condone dangerous cycling of any kind. We sincerely apologise to the individual affected."