After Dark: Reading club to become live music venue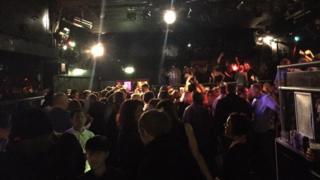 A nightclub twice threatened with closure will return to its roots by becoming a live music venue.
The After Dark club in Reading, which has been open since 1973, will host live shows again after it was saved from demolition for a second time.
The club's future was threatened after plans were made to build flats on the site, which has hosted bands Radiohead and Supergrass in the past.
Its manager said it will now focus on live music to secure its future.
The venue will also continue to host club nights, he added.
The After Dark club, which is situated between two Grade II-listed buildings, has been used as an entertainment venue since the 1940s, according to its owners.
A new management team is planning to turn the club into a music venue and place for up and coming bands to play.
'Magical experience'
Manager Zahid Khan added: "There's a long pedigree of bands that have played here. Bands playing here is almost like a religious thing.
"There are not a huge number of venues in Reading and when bands perform here, because of the way the building is set up, it's like a magical experience.
"It's the perfect space for it."
Marie-Claire Petersen, who is working with Mr Khan said it was "lovely" for the building to be "utilised in an amazing way and not be lost".
She added: "It's a Reading iconic building, it's close to a lot of people's hearts.
"We've have lots of new and up-and-coming bands coming in here and cut their teeth on the music scene."
Manic Street Preachers, Stereophonics and Shed Seven are among the groups to have played at the club in the past.
KK Property Investments, set up by the club's owners, wanted to replace the venue with two blocks of six flats in 2017.
But planning officers described the proposal as a "cramped and visually dominant overdevelopment of the site".
In 2016, a planning application was knocked back after the council said the proposals were "detrimental" to the area.