Reading 'rapidly running out' of grave plots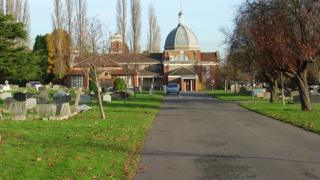 Reading is "rapidly running out" of burial space and one cemetery will be full in 10 years if no action is taken, a council has warned.
Plans for 1,376 grave plots at Henley Road Cemetery have been put forward to cope with demand for burial space.
The cemetery in Caversham will be full by 2028, but the expansion will increase its life by "at least" a 10 years, Reading Borough Council said.
A decision on the plans is expected to be made in September.
The site currently has 25,000 graves for coffin burials and 3,000 cremation plots, covering an area of 50 acres.
The current plans will see cemetery - opened in 1927 - extended into a recreation area on the site.
Council leaders previously said the "biggest pressure" for plots was coming from an increase in Muslim burials.
But a spokeswoman told the BBC the demand for burial land "remained consistent", adding the new plots would meet all "religious, secular, ethnic and cultural needs of the bereaved".
She added: "Like many areas of the UK, Reading is rapidly running out of burial space.
"If we do nothing to remedy the situation, local people could face having to buy plots away from their home and families."
The council said reusing graves older than 75 years is only permitted in London.