Reading Ikea inquest: Crush death engineer did not follow procedures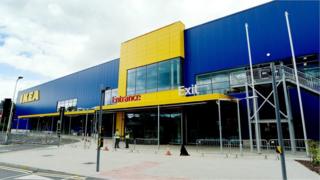 An engineer who was trapped while working on a lift at an Ikea store was killed when a descending lift crushed him, an inquest heard.
Joaquin Fernandez, 41, died while carrying out electrical work at the store in Reading in October 2016.
The lift trapped him as he worked inside the shaft on the ground floor. The inquest heard he had not followed established procedures.
An inquest jury concluded Mr Fernandez's death was by misadventure.
Reading Coroner's Court heard the engineer had "entered the pit not having checked that control of the lift car had been achieved".
A post-mortem examination found Mr Fernandez died of traumatic asphyxiation, where the chest is crushed by a large object.
'Heard a shout'
Before the jury retired, Senior Coroner Peter Bedford said the death was "awful and tragic".
Mr Fernandez, an "experienced" engineer from Sevilla in Spain, had been working for a subcontractor alongside a mechanic named Manuel de Sola.
The court heard how Mr Fernandez had created a "bridge or a wire" connection to allow the lift to move while its doors were open, and sent the lift to the first floor.
Mr de Sola said the pair's plan was for him to go up to the second floor, go on top of the "lift car" and turn the switch into the "maintenance position".
He added the plan also involved Mr Fernandez pushing an emergency stop button to secure the lift.
Mr de Sola said he had gone to fetch his toolbox when he heard the lift doors close and, a few seconds later, a "shout" from Mr Fernandez.
Martin Banasik, an expert engineer, said the hydraulic lift had an "operational homing device" which made it return to the ground level after a period of time - which he believed was the reason it descended.