Three Slough men convicted over gun smuggling plot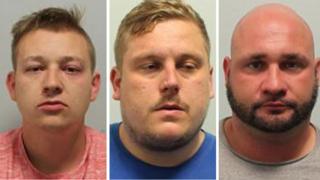 Three men have been convicted over a plot to import scores of illegal guns into the UK.
Steven Spires, 36, Michael Nicholls, 26, and Denis Kolencukov, 24, were caught using vehicle engine blocks to smuggle the weapons into the country.
The police operation in 2017 uncovered a total of 89 firearms and thousands of rounds of ammunition.
All three men, from Slough, will be sentenced at Blackfriars Crown Court on 3 August.
Alerted by the National Crime Agency (NCA), border officers in Coquelles, France, stopped the group's vehicle before it entered the Channel Tunnel on 1 July 2017.
They found 79 4mm and 6mm handguns and the ammunition hidden in the specially adapted engines.
Kolencukov was arrested as he arrived in Dover from Dunkirk on the same day.
The NCA said the Polish driver of the vehicle had collected the engines from Kolencukov at a petrol station in Boleslawiec, Poland, the previous day, unaware of their lethal contents.
Another 10 firearms were seized after surveillance of a shipping container at a Slough industrial estate.
Spires and Nicholls were found guilty of possession of firearms after a two-week trial at Blackfriars Crown Court.
Nicholls was also convicted of conspiracy to import firearms.
Kolencukov pleaded guilty to possession of firearms and further charges of conspiracy to possess firearms and ammunition with intent to endanger life in November.
The guns were viable Ekol Arda 4mm Flobert and Atak Arma 6mm Flobert revolvers.
These are prohibited firearms in the UK but are freely available in countries across Eastern Europe, including the Czech Republic, Bulgaria and Slovakia.
Det Insp John Nolan, from the NCA's Organised Crime Partnership, said: "Kolencukov was the driving force behind the importation of a vast number of these extremely dangerous firearms.
"I have no doubt that they were being brought into the UK for the sole purpose of causing serious and fatal injuries."