Four men pose as police to burgle house in Thatcham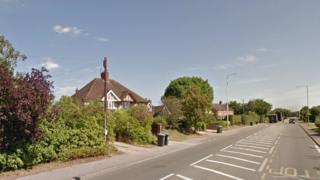 A group of men claiming to be police officers got into a woman's house and told her to sit on the floor while they stole gold and jewellery.
The four men parked a Volkswagen Golf parked on the women's driveway in Thatcham, Berkshire, and shouted that they were police.
The victim, in her 60s, tried to stop them entering her home, but was told to sit on the floor as they searched her house.
All the men were wearing balaclavas.
Thames Valley Police said the men were armed with a steel bar with a red handle and a two-pronged black bar.
The force is appealing for witnesses to come forward following the raid last Monday.