Reading Central Club: 'Spiritual home' to become flats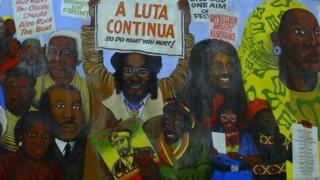 A club which was the "spiritual home" of the black community in Reading will be turned into flats.
Reading Central Club will be demolished to build a seven-storey block, ending a 12-year dispute over its future.
Reading Borough Council said it lost up to £1m in revenue by retaining a 36m-long (118ft) mural on the site.
Community group Aspire failed in its bid to take over the property as Reading councillors agreed a 999-year lease with developer Redline on Monday.
A report to councillors said retaining the 28-year-old "iconic mural" would "make a positive contribution".
But the council said had club been "unfettered by the mural", up to £1m could have been made.
The artwork was made an asset of community value last year.
The new building will also house the theatre company Reading Between the Lines.
Keith Kerr, chairman of Aspire, said the "luxury flats" would not represent the "diversity and the work that the Windrush generation have done" in Reading that the mural stands for.
As part of the deal, Redline will take over the "protection, restoration and ongoing maintenance" of the mural.
Jo Lovelock, Reading Borough Council leader, said she understood Mr Kerr and others would be upset, but added the council had a duty "go with the best bid."
She added: "Redline's bid was offering the most money and also the community space."