Anti-drug graffiti appears in Reading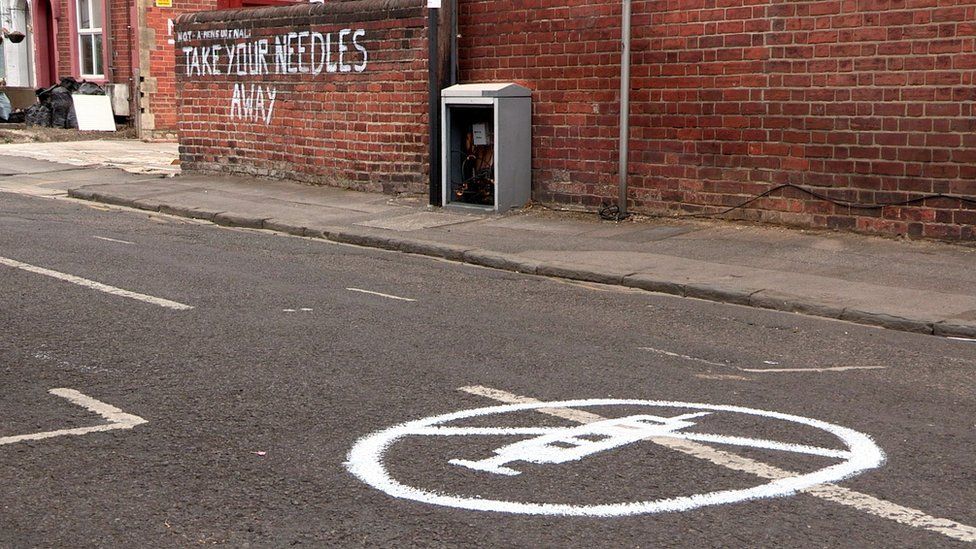 Graffiti against an "epidemic" of drug use and anti-social behaviour has sprung up in a town overnight.
Residents in Cambridge Street, Reading, told the BBC they do not know who is responsible but many applauded the secret artist's "message".
Others described the "take your needles away" and anti-syringe sign markings as "disgusting".
Councillor Sophia James said she was "not aware until now of a problem in this area".
One resident, who wants to remain anonymous, said: "There's been an epidemic for needle use and intravenous drug use, along with anti-social behaviour.
"People urinating in public, faeces left in people's car parks, driveways, uncapped needles just being thrown in people's car parks.
"I've had three uncapped needles pushed through my letterbox.
"It's been reported to the police, nobody seems to want to know about it or do anything about it."
Other residents, who also wished to remain anonymous, were against the graffiti, with one branding it "disgusting".
Councillor James encouraged people to report the problems to the council.
She added she will be "keeping an eye on this area going forward".
Thames Valley Police has been approached for comment.