Reading shipping container urban market turned down over crime fears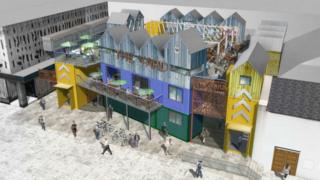 Plans for a temporary "urban market" built from shipping containers have been rejected by a council.
The retail, bar and restaurant space was planned to be attached to the Broad Street Mall in Reading, Berkshire.
Reading Borough Council said the new designs would "perpetuate" anti-social behaviour and would "increase rather than reduce the fear of crime".
The designs were a revision to plans previously granted planning permission in January 2018.
Owner Moorgarth said the proposal was a "key aspect in regenerating the Broad Street Mall and the Hosier street area".
It added that it expected the "overwhelming proportion" of the new building to be used for retail sales.
'Anti-social behaviour'
However, the council objected to the plans for a rooftop bar and restaurant, saying the "large" bar being "disconnected" from the streets would create problems with crime in an area "susceptible to acknowledged anti-social behaviour".
Following previous concerns regarding Eva's nightclub next door, the developer Moorgarth bought the club and ended its lease. It now plans to demolish that building.
The councillor responsible for planning, Tony Page, said the first application for the market was "preferable" particularly in terms of the design.
Mr Page expressed concern about the vast expanse of blank walls at the front of the design which stop it from being "integrated into the wider area".
Despite refusing the plans, he said the "direction of travel is right" and that they want to "continue to work with" the developer to see the plan realised.
Moorgarth said they were "naturally disappointed with the decision" but would review its options in order "to provide a vibrant destination for this part of the town centre."