Nest with '10-15,000 wasps' found in Newbury garage cupboard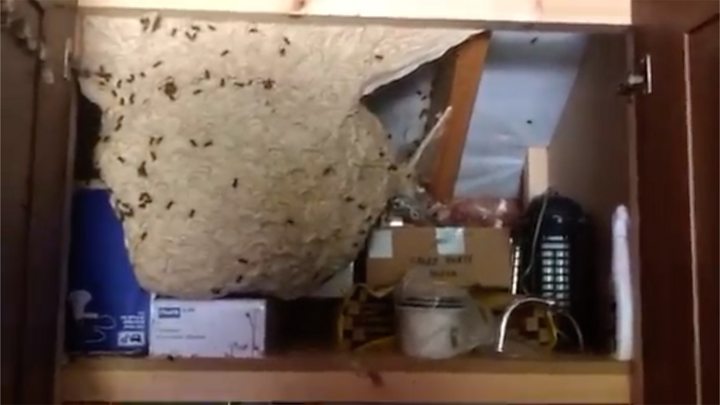 A pest controller who discovered a nest with "around 10-15,000" wasps in a garage cupboard described his experience as "crazy".
Shane Jones was called out to inspect the nest in Newbury, Berkshire, after a customer had "nearly done a back flip over his car" with shock.
The habitat grew to a huge size due to the recent hot weather, Mr Jones said.
"This was crazy," he said, adding: "It isn't what we normally find, it was absolutely enormous".
Mr Jones was originally called out last week by a customer who opened a cupboard in his garage that had been closed for some time.
When the pest controller opened the door, he said he "had to go back to get the camera because we don't get ones like that every day".
He said it was about 3ft (91 cm) in diameter.
Mr Jones said the heatwave Britain has experienced has led to more queen wasps surviving, allowing for larger nests.
"They are all connected to the queen," he said.
"If threatened, they will go for you as one, so that's what's a bit worrying about a wasps' nest."
The habitat was successfully removed from the garage cupboard and its inhabitants safely moved on.
You may also like:
Mr Jones, originally a pest controller from Australia, said that "even though you don't have dangerous snakes or dangerous spiders in Britain, wasps are dangerous".
"I didn't deal with wasp's nests over there," he said. "They have different kinds of problems."
He previously found a "monster" wasps nest which he described as the biggest he had seen.