Reading Festival food salvaged for homeless people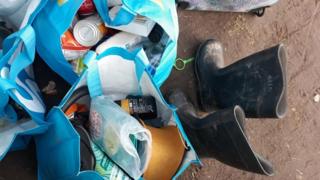 Discarded food items left behind by music revellers at Reading Festival have been salvaged to be given to homeless people.
Up to 60 food bags will be handed out to rough sleepers after a team of volunteers collected left behind food ahead of the final clean up.
Grace Gomez, who runs a charity called New Beginnings, said the mess strewn across the site was "shocking".
The group collected at least 25 tents along with 60 sleeping bags.
Mrs Gomez said the items will be handed out to those in need at The Queens Arms in Great Knollys Street, Reading, which she converted into an alcohol-free community hub last year.
The pub, which offers hot meals and clothes, will hand out the food bags on Sunday.
Mrs Gomez said: "We just put a shout out on Facebook and loads of people turned up to help.
"It (the food) just would have been dumped, but at least people are going to be happy. When we have tins of food here it always gets snapped up. It's great."
The 53-year-old, who has been homeless herself, set up Christian ministry The Way in 2012 and subsequently New Beginnings to offer help to the homeless and disadvantaged.