Theale Primary School: Council votes to build 'scrapped' school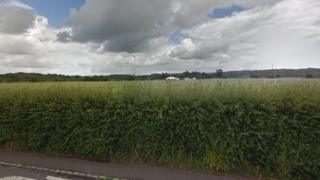 An £8m primary school which has faced four years of delays will now be built.
Theale Parish Council in Berkshire had previously refused to hand over playing fields to be used as a site for the school.
West Berkshire Council had scrapped plans for the school, claiming the parish had deliberately delayed work.
The parish council voted through plans on Tuesday to "surrender the lease in accordance with the request from West Berkshire Council".
Cllr Alan Macro, who represents Theale at West Berkshire Council, said they now had plans for an "outstanding school".
"A lot of people are concerned a bigger school will mean more housing, but this will fit with what is being built already," he said.
West Berkshire Council said in August it was looking at expanding other schools in the area to match demand, having scrapped plans to build the school.
It claimed the parish council had not signed the legal documents in time to allow the new school to go ahead.
The plan for the school at the North Street playing fields was approved by both councils in the summer of 2017 after being discussed for four years.
In a referendum held in March, residents voted in favour of releasing land to begin work.