Beyond the Bubble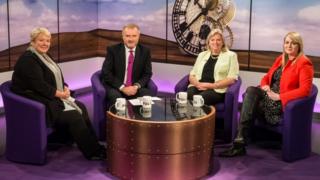 Have you ever wondered what happens when the TV cameras are switched off at 11:30 on a Sunday, and BBC 1 transmission of Sunday Politics finishes?
Sometimes our guests carry on debating. In fact, most days they won't stop.
Now though.. you can eavesdrop on their conversation.. with a NEW podcast!
It's all the rage, don't you know.. intelligent speech with no interruptions, and you can download it to listen at your leisure. Listen on the train.. at the gym.. when your partner wants to watch something else on TV!
The theme of "Beyond the Bubble" will be Not Westminster. The parts of political life that happen away from London, that matter most to us in the South of England.
Why not give it a try.. and subscribe if you'd like to hear each edition as soon as it is released into the wild!
Click here to listen to "Beyond the Bubble"
The latest podcast asks whether politicans need to get out more.
It features Wales Minister Mims Davies and Labour's Paul Harvey along with Mick Toft from the RMT union. Interviews with Nigel Farage and Tom Tugendhat.
The first episode is a lot about the Waspi campaign over the change in women's state pension age. With Winchester's Caroline Horrill, Oxfordshire's Laetisia Carter ... and her Mum!