'Wait until I'm dead' for building plans, woman begs Reading council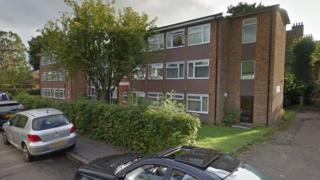 "Wait until I am dead" before converting bin stores and a communal laundry area into shelter for the homeless, a woman has begged a council.
Reading council said the laundry facilities at the flats in Brunswick Street, Reading were "redundant".
But the 91-year-old, who did not wish to be named, said her home was too small for a washing machine of her own.
She added it would be "too physically demanding" for her to make the bus journey to her nearest laundrette.
If the Berkshire council approves its own plans for the site, the new flat would consist of a kitchen, dining area, lounge, bedroom and en-suite.
Additional parking spaces would also be created.
The council's proposal states: "The new flat will be used by Reading Borough Council to help house vulnerable individuals who are either homeless, or at risk of becoming homeless."
The nonagenarian has been a tenant in the building for more than 50 years.
"In all that time [I] have had the use of a communal laundry room and washing machine, presumably provided originally by the council as our kitchens are so small," she said in a letter objecting to the planning application.
She added: "Perhaps you would reconsider your proposal - at least until I am dead (everyone else here is much younger)."