Trump visit and royal wedding cost Thames Valley £9.4m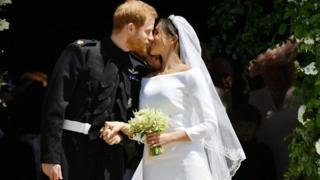 The wedding of Prince Harry and Meghan Markle and the visit of Donald Trump cost Thames Valley Police more than £9.4m, it has confirmed.
Costs for officers and security measures totalled about £3.4m for the wedding of the Duke and Duchess of Sussex at Windsor Castle in May.
Meanwhile, the US president's visit to the castle, Blenheim Palace and Chequers in July cost around £6m.
The force (TVP) has recovered £7.8m for the operations from the Home Office.
The entire police operation for Donald Trump's visit has been estimated to have cost nearly £18m, with nearly 10,000 officers from across the country needed to cover the president's four-day trip.
During his UK trip President Trump visited Prime Minister Theresa May at her country residence Chequers.
He also attended a dinner at Blenheim Palace, in Oxfordshire, met the Queen at Windsor Castle and played golf in South Ayrshire.
The royal wedding saw crowds in excess of 100,000 people gather in Windsor.
Thames Valley Police also provided security measures for the wedding of Princess Eugenie to Jack Brooksbank in St George's Chapel.
In a statement, TVP said the sums "cover the cost of officers and staff deployed, security measures, accommodation, catering and transport costs".
Anthony Stansfeld, the force's police and crime commissioner (PCC), applied for "special grant funding" to the government in order to minimise the impact of local policing.
TVP said the Home Office would reimburse "100% of our direct costs" for both operations, but said the claim does not cover "internal costs".
Mr Stansfeld said it was "extremely important" for the costs to be recovered to "minimise the impact on local policing".
Last week, TVP chief constable Francis Habgood said £15m of savings needed to be made in the next three years. By 2020/21 the force will have cut £113m in 10 years.