Monster Energy loses legal battle against a Newbury man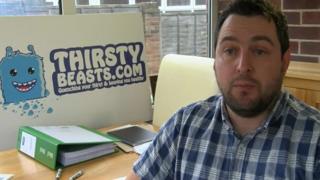 An entrepreneur says he is "financially crippled" after winning a two-year trademark battle against American drinks firm Monster Energy.
Dan Smith, from Newbury, created healthy drinks company Thirsty Beasts in 2018, and the US firm filed a legal challenge against him.
It claimed customers would confuse both Mr Smith's slogan - "Rehab the beast" - with its "Unleash the beast" line.
The case, which was dismissed, cost Mr Smith more than £30,000 in legal fees.
He said he and his wife had ploughed every penny they had into launching the business.
After registering his first trademark in the UK in 2016, Mr Smith then filed the Thirsty Beasts logo.
Billion-dollar company Monster Energy objected to his application, claiming Mr Smith's slogan was too similar to its own.
The UK Trademark Office ruled in favour of Thirsty Beasts, but Monster Energy appealed the decision.
This opened up a new legal challenge, costing thousands of pounds.
Mr Smith said defending his company was a "scary" experience and feared he would lose his home taking on the corporate giant.
"Financially it has crippled the company," Mr Smith said.
He added: "We had savings set aside to boost the product, to do the marketing, to get that one drink out.
"Now we've burnt all of that, that and more trying to win this.
"We are two years behind where we want to be."
The entrepreneur now needs to raise £28,000 for a limited launch of the product in spring 2019.
Monster Energy and the Intellectual Property Office have been approached for comment.