Dredging causes 'significant' damage to River Lambourn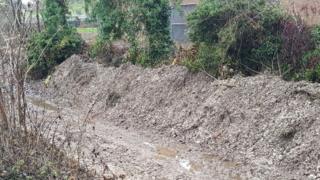 Damage caused by dredging to a stretch of a river will have a "significant effect" on the surrounding environment, a conservationist said.
The bed of the River Lambourn at East Garston, Berkshire, is a protected site, and an internationally important habitat for fish and plants because of the chalk habitat.
Conservationist Prof Alastair Driver said he was "shocked at the damage".
The Environment Agency has launched an investigation.
The Lambourn flows into the Kennet, which leads into River Thames at Reading.
It is a winterboune, which means it is a stream that is dry in summer and floods in winter.
Prof Driver said: "Dredging in this way serves no purpose, all it does is destroy the river environment."
"Parts of this river are internationally important."
The charity 'Action for the River Kennet' (ARK), one of the UK's Rivers Trusts, called the incident "brutal", adding: "This is a year's worth of fish and plants destroyed."