Andrew Harper death: Police given more time to quiz suspects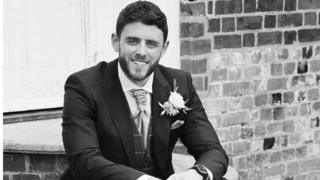 Police have been given an extra 24 hours to question 10 people arrested on suspicion of murdering PC Andrew Harper.
The 28-year-old died on Thursday in Sulhamstead, Berkshire, when he was dragged along the road by a vehicle.
The Thames Valley Police officer, who got married four weeks ago, was responding to reports of a burglary.
Ten males, half of whom are under 18 years old, were arrested on suspicion of murder.
Thames Valley Police said officers were granted the extension on Sunday night at Reading Magistrates' Court.
PC Harper attended the reported break-in at about 23:30 BST with a fellow officer.
A post-mortem examination concluded that he died of multiple injuries.
Forensics officers have been seen investigating at the Four Houses Corner Caravan Site, three miles from the scene on the A4 Bath Road.
Prime Minister Boris Johnson said he was "shocked and appalled" by the death.
A fundraising page, set up by the Thames Valley Police Federation to support PC Harper's family, passed the £150,000 mark.
The fundraising page says: "We confront danger on a daily basis.
"We know there is a risk when we put on the uniform but we do so as we are proud to protect the public.
"Sadly, on very rare and horrendous occasions, a colleague makes the ultimate sacrifice. We will ensure that heroism is never forgotten."
PC Harper's fundraising page for a 20-mile obstacle course he planned to do to raise money for children with cancer has made £19,000, far above his £500 target.
West Midlands police officer Gareth Phillips, who is in hospital after being run over, said his "thoughts and prayers" were with the family and friends of PC Harper.
---
The suspects in custody are:
A 13-year-old from Burghfield Common, Berkshire
A 16-year-old from Burghfield Common, Berkshire
A 16-year-old from Burghfield Common, Berkshire
A 17-year-old from Aldermaston, Berkshire
A 17-year-old from Bramley, Hampshire
An 18-year-old from Mortimer, Berkshire
A 20-year-old from Burghfield, Berkshire
A 20-year-old from Reading, Berkshire
A 24-year-old from Bramley, Hampshire
A 30-year-old from Burghfield Common, Berkshire