PC Andrew Harper's widow Lissie to meet Priti Patel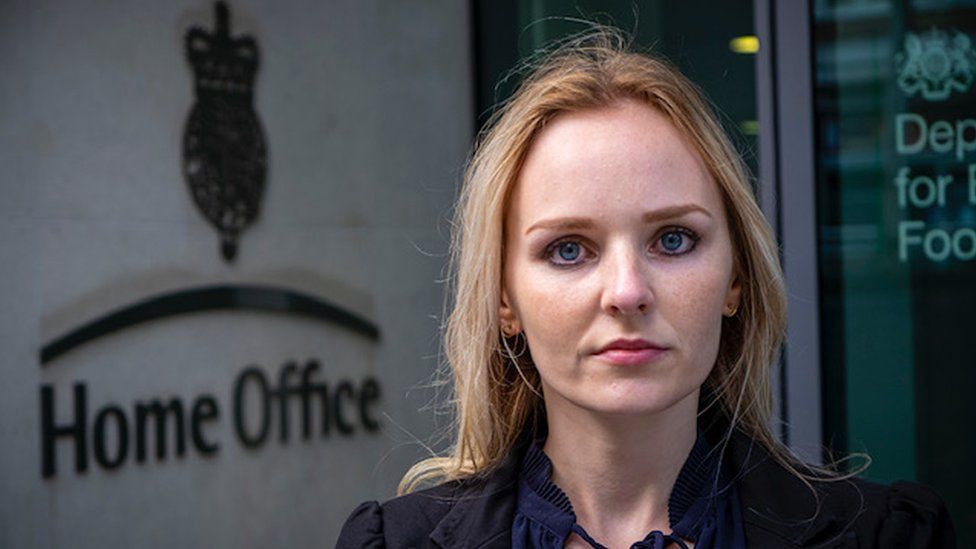 The widow of PC Andrew Harper, who was killed in the line of duty, is set to meet Home Secretary Priti Patel.
Lissie Harper, 29, has set up the meeting as part of a campaign for those convicted of killing emergency service workers to be jailed for life.
PC Harper, 28, suffered catastrophic injuries when he was dragged behind a car used by thieves in Berkshire.
Mrs Patel said she would work with PC Harper's colleagues and family to "find a way if we want to change laws".
She said: "My priority is to listen to Lissie Harper, spend some time with her... so we can be responsive from government."
The government said it is looking to meet Mrs Harper at the "earliest opportunity", but a date has not yet been set.
Lord Chief Justice Lord Burnett, the most senior judge in England and Wales, will preside over the hearing to consider whether the sentences handed down to the trio were not long enough.
PC Harper's killers had been accused of murder but were convicted of the lesser charge of manslaughter.
A decision is yet to be made by the court as to when it will hear applications lodged last week by Bowers and Cole for permission to appeal against their manslaughter convictions and their sentences.
Mrs Harper has raised 500,000 signatures as part of her campaign.
The specific details of the law have not yet been set out, but the campaigners have confirmed it would only apply to the deaths of emergency workers in the line of duty.
"We are delighted that the Home Office have been in touch to arrange the important meeting with Home Secretary Priti Patel. This is vital and it's urgent," she said in a statement.
"I think if emergency workers are going to a situation where somebody has committed a crime and as a result of that situation they lose their life, then they [the perpetrators] need to be suitably dealt with and that's just not happening at the moment.
"Ultimately we want a life sentence. We want something that reflects taking someone's life, so that's something we want to talk to the home secretary about and get to the bottom of it and see what we can actually do."
She said she did not believe emergency workers are "more important", but this new law would be directed at them because of the nature of their work.
"These people spend their days dealing with crime and with dangerous situations and they're putting themselves in danger to protect the public so I think if anybody needs that sort of protection, it's them," she added.
Ms Adlam said: "I'm looking forward to sharing our thoughts on a possible solution to deter people whilst they are committing a crime from seriously injuring or killing blue light officers."
The maximum sentence a judge can impose for manslaughter is life imprisonment but they must specify a minimum term to be served.