Banksy prison mural: Rival's name appears on artwork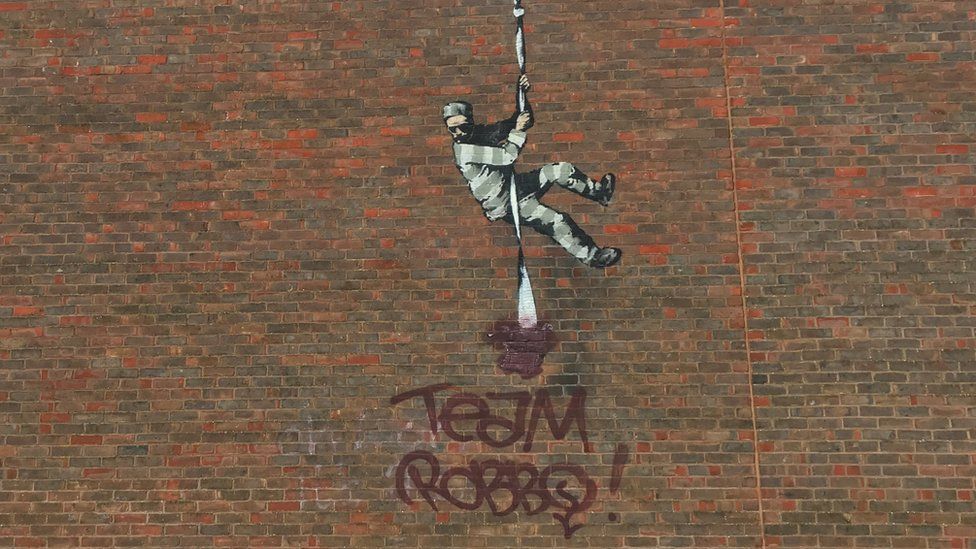 Street artist Banksy's mural on the walls of a derelict prison has been defaced with red paint.
The image of an escaping prisoner - possibly resembling famous inmate Oscar Wilde - appeared on the side of Reading jail on 1 March.
It featured a typewriter at the bottom, but this has now been covered up and the words "Team Robbo" appear below.
Robbo was a graffiti artist who died in 2014. He had been in a long-running feud with Banksy.
The rivalry began in 2009 when Bristol-based Banksy painted over one of Robbo's tags next to Regent's Canal in Camden, which dated from 1985.
The Ministry of Justice (MoJ), which owns Reading Prison, said it was aware of the situation but would not be commenting further.
Team Robbo has been contacted by the BBC for comment.
A man, who security staff at the prison said was a member of the public, was spotted trying to clean the latest graffiti from the wall at about 11:30 GMT.
The word "Robbo" has since disappeared.
"I was absolutely gutted when I saw what had happened," he said.
"I know the Banksy story but it doesn't give people the right to do this. To see this is horrendous...
"I thought I would come down and have a go, but I'm hoping someone else will sort out the typewriter - I won't be able to do that."
Councillor Karen Rowland, Reading Borough Council's member for culture, told the BBC there was "very little" the authority could do.
She said the artwork being defaced was "a little bit of a tragedy" but was "probably bound to happen".
"It's clear we love our Banksy, even if it is the MoJ's Banksy - so we will have to see what we can do," she added.
Posting on Facebook, Rabble Theatre in Reading said the MoJ had refused to provide any protection for the artwork.
A tweet from the Save Reading Gaol campaign group said it was "awful news to wake up to" and added the artwork had been left "vulnerable to destruction".
A sad morning as we learn that the #Banksy #mural on the side of #ReadingGaol
has been deliberately damaged with red paint.😢

Awful news to wake up to and to realise that the failure to protect something precious to the town has left it vulnerable to destruction... 💔#Rdg pic.twitter.com/S713aESwzA

— Save Reading Gaol (@SaveReadingGaol) March 16, 2021
Vince John, from the 1loveart gallery in Bristol which sells urban and street art, said it appeared the vandalism had been carried out quickly.
"They didn't have a ladder and didn't go any higher [than the typewriter]," he said.
"It's a real shame - I don't think Team Robbo have done themselves any favours.
"A good art restorer should be able to make it look relatively like the original - but it will cost money and that's money coming out of Reading's budget."
Thames Valley Police said the incident had been reported by a member of the public and that officers were appealing for information about who was responsible.
The clip - entitled Create Escape - showed the piece being created under the cover of darkness, set to archive commentary from American painter Bob Ross.
Jason Brock, leader of Reading Borough Council, confirmed the authority had made a bid to buy the prison and described the defacement of the Banksy mural as "hugely disappointing".
Related Internet Links
The BBC is not responsible for the content of external sites.