Sailor died in 150mph Portsmouth motorway crash after 'fast car boast'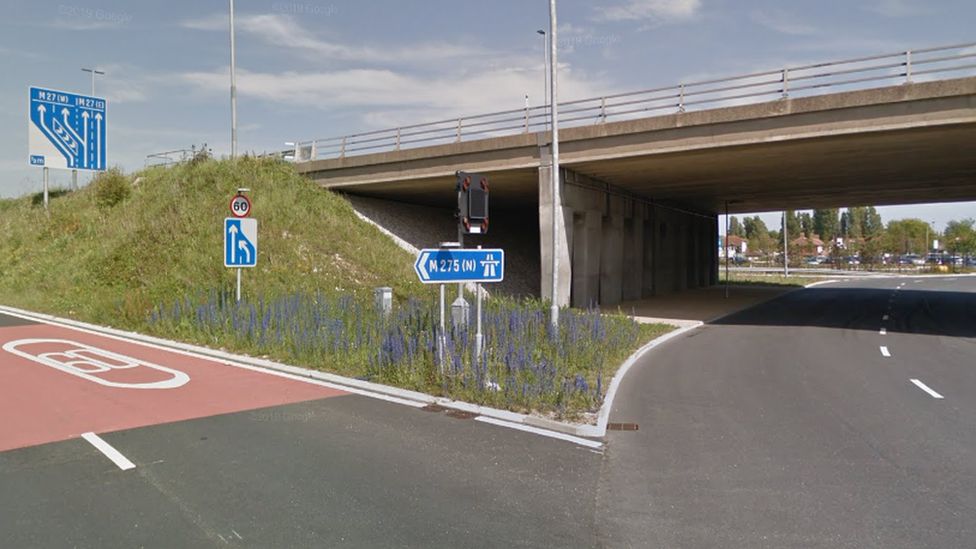 A Royal Navy engineer and father-of-five died after crashing his car off a motorway at 150mph.
Chief Petty Officer Keith "Paddy" Ross set out to prove his modified Vauxhall Astra was faster than a colleague's car in July last year, an inquest heard.
But the 40-year-old lost control and was flung out of the vehicle after it left the M275 in Portsmouth. The sailor died of multiple injuries.
Coroner Jason Pegg recorded a verdict of death by misadventure.
The Portsmouth inquest heard CPO Ross had boasted to his workmate, Harry Malbon, that his car would "take the record" before taking him for a drive from Portsmouth Naval Base on 15 July.
Giving evidence Mr Malbon, also a Navy engineer, said: "After clearing the speed camera, Paddy floored it.
"I would describe this moment like being on a rollercoaster, I was speechless at the acceleration.
"I saw an ambulance with its blue lights on and I remember thinking that was for us."
He told the inquest he saw the car's speedometer at 150mph, before the car began "fishtailing" and CPO Ross was unable to straighten the car.
The car then crossed two lanes of motorway and crashed through the barrier and down on to a road below.
Mr Malbon was treated in hospital for minor injuries.
Coroner Mr Pegg said CPO Ross had modifications, including removing the catalytic converter, which made the car "unfit for the public road" and harder to control under heavy acceleration.
He added: "I find as fact the speed and manner was wholly unsuitable for the road conditions and beyond the capability of the car and also the driving capability of Keith Ross."
His widow Sarah said: "He was cheeky, funny hard-working, insanely intelligent, great fun to be around, the life and soul of everyone, committed, a great man."
CPO Ross, originally from Co Down, Northern Ireland, joined the Navy in 1998 as a marine engineer and first served aboard the aircraft carrier HMS Illustrious.
He was awarded the Operational Service Medal for serving in Sierra Leone.
Lt Cdr Neil Skinner, his commanding officer, said: "He was a talented engineer operating at the top of his game."
Related Internet Links
The BBC is not responsible for the content of external sites.