Covid: Bracknell woman vaccinated by nurse dressed in her scrubs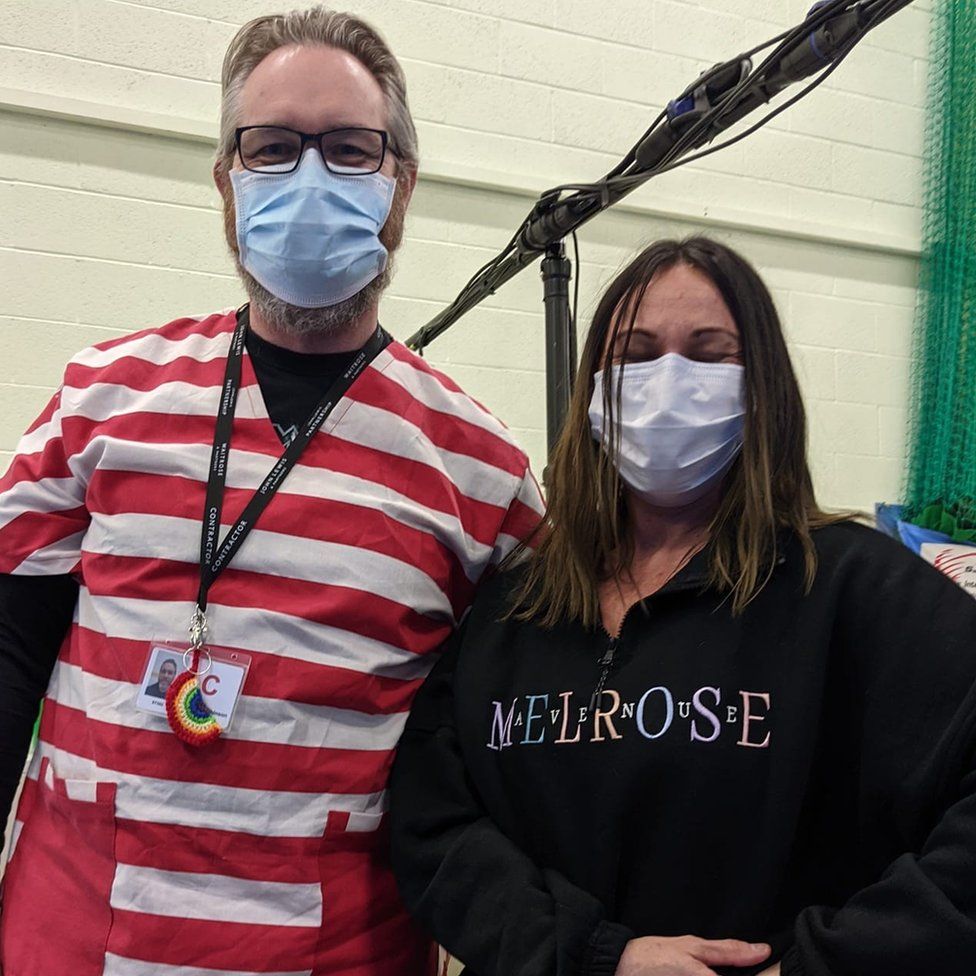 A woman who has been making scrubs for NHS workers said it was "absolutely phenomenal" to be vaccinated by a nurse wearing one of her creations.
Caroline Farquharson, 50, from Bracknell, went to the Waitrose HQ Sports & Leisure Centre for her first dose of the Oxford-AstraZeneca vaccine.
She was treated by a nurse adorned in the unmistakeable red and white pattern, made from an old duvet.
"What were the chances of that?" she said to the BBC. "It was brilliant."
Ms Farquharson started making colourful clothing for the NHS in March 2020 after a local group called Rainbow Scrubs was looking for volunteers.
She has since made about 95 full sets, all in her spare time.
She was inspired to get involved "to say thank you in a small gesture - there was nothing else I could do".
On Thursday evening she checked in at the leisure centre in Bracknell to get her jab and quickly noticed her handiwork from across the room.
"I could see him in the distance and I was very excited," she said.
"I was jumping up and saying 'that's the pair I made - what are the chances of him serving us?'
"We were about twelfth in the queue and it was just luck that he came out and called out our number.
"I told him I made them and he was very grateful and he was parading them. It was brilliant to not only see them but to have the same nurse give me my injection."
Related Internet Links
The BBC is not responsible for the content of external sites.