Happy meal: McDonald's food delivery 'contained bags of cannabis'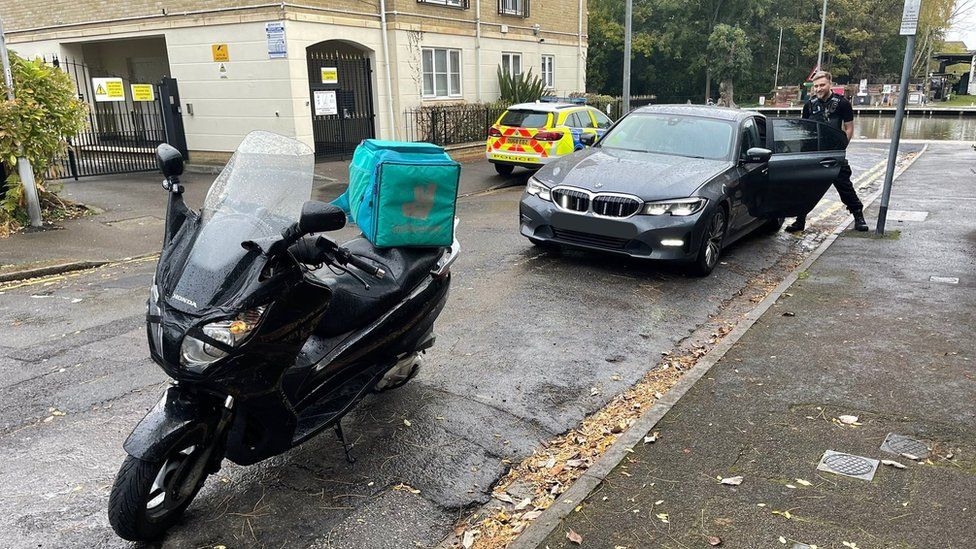 A takeaway delivery rider was caught carrying five bags of cannabis together with a McDonald's meal, police say.
The 18-year-old man from Reading was stopped by officers on Wednesday and arrested for drug driving.
In a post on Facebook the roads policing team said: "I'm fairly sure your burger and fries don't come with a free bag or two of cannabis edibles."
Though the drugs were kept in a Deliveroo bag the moped rider was not working for the company at the time.
He was stopped by Thames Valley Police officers on De Montfort Road in Reading.
The cannabis was in the same insulated food delivery bag as a burger meal which was mid-delivery, but not from Deliveroo.
Police confirmed the food "was safely delivered to the hungry customer prior to heading off to custody".
The man provided a roadside saliva test and tested positive for cannabis.
He was also arrested for having no insurance, driving without a moped licence, and for possession of cannabis.
He has since been released under investigation. The moped was seized.
A police spokesperson said the man's employer would be informed "of the clear food safety issues".
McDonald's declined to comment. The fast food company works with Uber Eats and Just Eat when it comes to food deliveries.
Neither company could confirm to the BBC if the driver was working for them.
Related Internet Links
The BBC is not responsible for the content of external sites.