Bearwood brothel owner jailed over order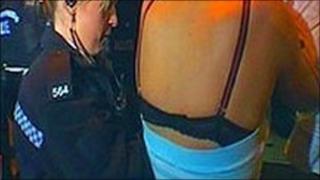 The owner of a West Midlands brothel who was told to pay back £2m under the Proceeds of Crime Act has been returned to jail for nearly seven years.
Carl Pritchett ran the Cuddles massage parlour in Hagley Road, Bearwood, where 19 foreign women were found during a police raid in September 2005.
He was jailed for two years in 2006 and told in 2009 he had six months to pay back the money or serve seven years.
Pritchett, 57, of The Parade, Dudley, was jailed for six years and 325 days.
He has paid back £92,000 and still owes more than £1,970,400, the Crown Prosecution Service said.
It added he has been charged more than £418 per day in interest since the six months expired.
'Cannot be ignored'
Pritchett was jailed for two years at Wolverhampton Crown Court in 2006 after being found guilty of keeping a brothel and was ordered to pay back the money within six months at the court in August 2009.
He was jailed for six years and 325 days at Birmingham Magistrates' Court.
John Barker, from West Midlands Police Central Payback Team, said: "Despite the term of imprisonment enforcement of the order will continue until it has been paid in full.
"Orders made under the Proceeds of Crime Act do not go away and cannot be ignored."
West Midlands Police said last year that an investigation showed that he had no legitimate income and "had not paid income tax in years".
The force has said Pritchett had laundered the money that he made from the brothel, using it to buy properties overseas and had been driving a Ferrari a couple of years prior to his arrest.