Birmingham loses out to Londonderry in UK culture bid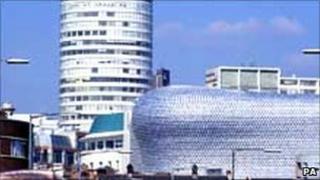 Birmingham has lost out to Londonderry in a bid to become the UK's first City of Culture.
Organisers said the title would have increased tourism and offered the chance to host events such as the Brit music awards and the Turner art prize.
Birmingham's bid focused on its heritage, its ethnic diversity, music and dance.
Among the supporters of the bid was the City of Birmingham Symphony Orchestra and Birmingham Royal Ballet.
'Do own thing'
David Clarke, chairman of Birmingham Civic Society, said: "Despite this news, Birmingham is still the UK's greatest cultural asset outside London, and you've only got to look at the diversity of our cultures to recognise that fact.
"We're also a city that should be proud that we're at our best when we get on and do our own thing.
"We don't need rewards and awards to be proud of our culture, our heritage or our achievements.
"You can see it in every aspect of the city's life. So let's not be despondent. Let's continue in the same spirit. Awards don't make one jot of a difference."
City councillor Alan Rudge, cabinet member for equalities and human resources, added: "We think we had a marvellous opportunity to put a great show on in 2013 but that wasn't to be.
"The bid gave us the opportunity to showcase to the whole country all the marvellous things we have to offer in Birmingham."