Nesting falcons in Birmingham flats delay demolition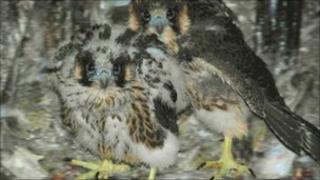 Work to demolish a tower block was delayed after a pair of peregrine falcons set up home on the building's roof.
The parents and three chicks flew their nest last week at Bayley Tower in Bromford, Birmingham.
It was discovered in spring but housing officers were advised not to disturb the birds until they had all left.
Peregrines prefer open landscapes, but also like urban environments, nesting in buildings and preying on pigeons.
Birmingham City Council housing spokesman John Lines said: "I don't normally like it when tenants move into my properties and don't pay rent, but in this case I'll make an exception.
"We believe this is the first successful breeding of falcons in Birmingham for many years."
Kept secret
The existence of the falcons was kept secret for fear thugs would try and steal the chicks.
Last month the family tried to leave the nest but the chicks were too weak and were unable to fly properly.
One suffered serious injuries and had to be put down by a vet.
Two were taken to the falconry centre at Hagley for treatment before being returned to the nest at Bayley Tower, which they successfully flew last week.
Housing officers will now put a new nesting box on nearby towers in case the falcons, or others, return.