Birmingham boy charged with stabbing murder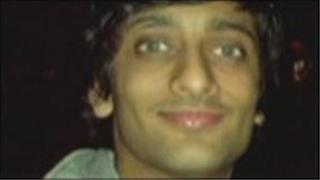 A 15-year-old boy has been charged with the murder of a man who was stabbed in Birmingham.
Yajay Sudra, 21, was wounded once in the chest in Marsh Lane, Erdington, on his way home from work on 9 July.
Mr Sudra, who worked in a book store at Birmingham airport, managed to stagger from the scene of the stabbing to his home nearby.
The boy, from Erdington, is due before magistrates in either Sutton Coldfield or Birmingham on Monday morning.
Mr Sudra's mother, Vasha, described how she found him dying on her doorstep: "He said Mum, help me Mum, just once and that was it."
Speaking at a police press conference on Friday, she said that when she opened the door her son was unable to tell her what had happened to him.
She said: "I opened the door - he just lay in my arms.
"Basically, he just came to say goodbye to me."