Adam Cusack identified as fatal Erdington stab victim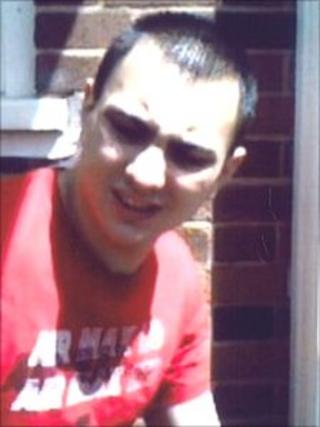 A 21-year-old man who was fatally stabbed in the heart in Birmingham has been named by police as Adam Cusack.
Ambulance crews were called to reports that two men had been stabbed during a fight between two groups in Erdington at 0100 BST on Saturday.
West Midlands Police said Mr Cusack was stabbed and died in Kingsbury Road.
Earlier a friend of his was stabbed nearby in Birches Green, but was not fatally hurt. Two Birmingham youths have been arrested over the stabbings.
Mr Cusack's family said: "We can't believe that this has happened to Adam.
'Not random'
"He was a loveable rogue. All his family and friends are missing him and can't believe he's gone.
"As a family we ask anyone who knows anything to come to the police."
Det Ch Insp Shaun Edwards said there had been a fight between two small groups, which had begun in Birches Green Road where Mr Cusack's friend had been stabbed in the back.
He said the fighting had carried on into Kingsbury Road where Mr Cusack was fatally wounded.
He said: "This was a fight between two small groups of men and we believe related back to an earlier disagreement. We do not believe that this was a random attack."
He said a number of people had already come forward and two 17-year-olds had been arrested on suspicion of murder. One was arrested on Saturday night and the other was arrested on Monday.
Police, who earlier said Mr Cusack was aged 19, have ruled out any connection between the stabbing on Saturday and a stabbing on 9 July in Erdington in which Jay Sudra was fatally stabbed on his way home from work.