Double fatal fire in Birmingham building 'an accident'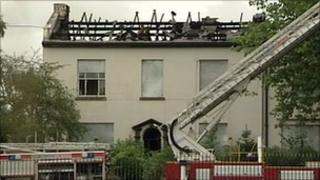 A fire which killed two men inside a boarded-up building in Birmingham is believed to have been "a tragic accident", police said.
Emergency crews were called to Moseley Road, Highgate, early on Tuesday.
West Midlands Police said initial findings suggested the fire was an accident and not arson.
Post-mortem examinations carried out on the men show they died as a result of the fire. DNA tests are being carried out to try to identify them.
Two men who survived the incident have been discharged from hospital.
Police have appealed for anyone who used the building, which was a disused care home, to come forward.
Det Chf Insp Sean Russell said: "We continue to keep an open mind as to the cause of this unexplained fire, there is nothing to suggest that the fire is arson or that the deaths are suspicious.
"Our initial findings would suggest that this was simply a tragic accident."
Police have been told that several men and women had been squatting in the building.