Tens of thousands to attend Pope's Birmingham Mass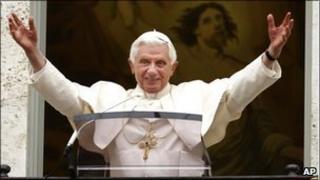 Tens of thousands of people are expected to attend a special Mass when Pope Benedict XVI visits Birmingham.
He will beatify Cardinal John Henry Newman at the event at Cofton Park on 19 September.
Pilgrims will be asked to make a £25 contribution towards the use of the park and a "pilgrim pack", the Catholic Church in England and Wales said.
The Mass is at the end of the Pope's four-day UK visit. It will be attended by more than 1,000 priests.
It is the first official Papal visit to the UK since 1982.
Pilgrims from around the world are expected to attend.
'Momentous occasion'
The ceremony will bring Cardinal Newman a step closer to becoming the first non-martyred English saint since the Reformation.
Peter Jennings, press secretary to the Archbishop of Birmingham, said: "It is a momentous occasion for this Pontificate, for the Pope to actually beatify anybody, and it is a tremendous honour for the Catholic Church in England and Wales."
Cardinal Newman, who founded Birmingham Oratory, and who was known for his work with poor people, died in 1890.
There has been a growing campaign for the cardinal, who converted to Roman Catholicism in 1845, to be elevated to sainthood.
A miracle attributed to him has been recognised by Pope Benedict. But a second miracle is still required before he can be canonized as a saint.
A spokesman for the Catholic Church said the £25 cost to attend the Mass could be paid by parishes, fundraising or by benefactors' donations.
"This is about a pilgrim's journey. The idea is that they are representatives of their parishes," he said.
"We want to encourage the idea of a pilgrimage and going collectively. We want to move away from the view that you are buying a ticket and this ticket gives you access to a concert."
The Pope will become first pilgrim to pray at a new shrine to the Blessed John Henry Newman.