Pilgrims at Pope's Birmingham Mass 'decided by draw'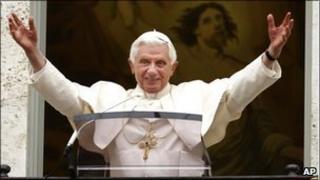 Raffles and draws will be held by Catholic churches to decide who attends the Pope's Mass in Birmingham if demand is high, say organisers.
About 14,000 of some 70,000 tickets have been allocated to the Roman Catholic Archdiocese of Birmingham for Pope Benedict XVI's visit in September.
Canon Pat Browne, a visit co-ordinator, said it was a very large archdiocese.
He said it could be a case of taking names "from a hat" for the first official papal UK visit since 1982.
The archdiocese covers more than 3,000 square miles (4,827 sq km), taking in counties such as Staffordshire, Oxfordshire, Warwickshire and Worcestershire.
Canon Brown said the tickets had been distributed across the country in accordance with the attendance at weekend Mass.
He said in each parish people interested in attending the event at Cofton Park on 19 September will supply their addresses and email address.
'Lucky ones'
He said: "And if they exceed the number that they will be allocated then they will have to have a little raffle and draw and put names in a hat and take out the names - and those lucky ones will be travelling."
The £25 ticket cost goes towards the use of the park, travel costs and a "pilgrim pack", the Catholic Church in England and Wales has said.
Tens of thousands of pilgrims, including about 1,000 priests, are expected to attend the special Mass where the Pope will beatify Cardinal John Henry Newman.
The ceremony will bring Cardinal Newman, who founded the Birmingham Oratory, a step closer to becoming the first non-martyred English saint since the Reformation.