More jobs under review at Birmingham City Council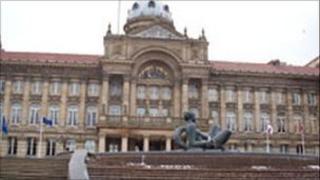 Up to 430 jobs could be cut at Birmingham City Council, it has been revealed.
The jobs, some of which are in the Connexions service which helps young people, are being cut due to a smaller government grant, the council said.
Staff have been given formal notice of a 90-day consultation process on the service's future.
Earlier this year, it was revealed 1,300 jobs were at risk while another 800 job cuts were announced in October.
The council said services under review were Connexions, a service which offers advice on education and careers for young people, and other roles within the youth support service.
The Children's Commissioning Team is also being reviewed.
"Following the government's reduction of the area-based grant, the immediate impact of this for the children, young people and families directorate is a potential loss of £6.1m to be achieved by the end of November this year and a greater loss at the end of the financial year," a council statement said.
A spokesman for the Unison union said the cuts would have an effect on young people in Birmingham.
A council spokesman said the move was a response to "current financial pressures".
'Mitigate job losses'
Staff are due to meet council officials on Friday.
In a statement, a spokesman said: "The city is taking a structured and strategic review through our workforce planning to respond to our current financial pressures.
"Through this planning framework we'll review and look to mitigate job losses where we can.
"We have got a framework to control the financial situation the city council faces."