Party pensioners 'feared they were getting Asbos'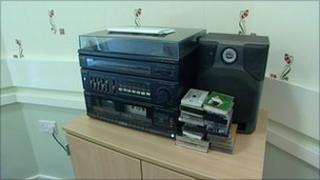 Residents at a sheltered housing complex in Birmingham said they feared they were to be given Asbos after complaints about parties.
Seventy people who live at the Great Barr complex, some in their 90s, were sent letters by the city council after it received complaints.
The letter said action would be taken against those behaving in an anti-social manner.
The council later said it may have been "over-zealous".
The issue arose after complaints over parties hosted by one of the tenants.
Resident June Hill said when she received the letter she thought they were all to be given an Anti-social Behaviour Order or be evicted.
"All the tenants are distressed and we just want it sorted out and get peace and harmony back here," she said.
Councillor Keith Linnecor, trying to resolve the situation, said: "The residents are worried they are viewed by the housing department at Birmingham City Council as thugs or as people who carry out anti-social behaviour at the ages of 70, 80 and 90."
In a statement, Birmingham City Council, said: "We take matters of anti-social behaviour seriously. We have not threatened any residents with an Asbo, but we accept the letter may be regarded as over-zealous."
A meeting is to be held at the complex to try to resolve the matter.