Birmingham camera probe led by funds member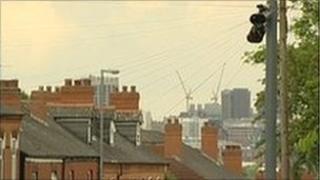 A review into cameras paid for out of a counter-terrorism fund is being headed by a member of the team which provided the funding.
Sara Thornton, Chief Constable of Thames Valley Police, has been asked by West Midlands Chief Constable Chris Sims to carry out a review.
Ms Thornton is a member of the Association of Chief Police Officers, Terrorism and Allied Matters.
The 218 cameras were put up in parts of east Birmingham.
In a statement, West Midlands Police said: "We have received feedback on her appointment since she is a member of ACPO TAM and the impact this may have on confidence.
"The chief constable recognises this and will be highlighting these concerns to her."
Complaints were made after the cameras were installed in the Washwood Heath and Sparkbrook districts, areas with a large Muslim population.
The Safer Birmingham Project (SBP), made up of the city council, police and other agencies, was behind the project and the funding came from Terrorism and Allied Matters fund, which is administered by the Association of Chief Police Officers.